Want some fantastic CritterCast Merch? Need a T-shirt with a Leopard Gecko, a bag with a Northern Blue Tongue Skink, or a phone case with a manatee mermaid? You'll find all that and more at our Redbubble shop!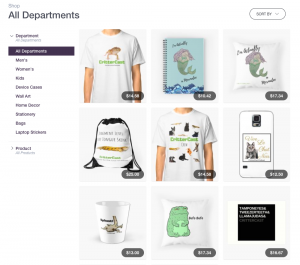 Here you can shop for all kinds of nifty products with a variety of designs. Some of our favorite inside jokes with listeners (ahem, tweezer teeth, ahem) or just some adorable illustrations of our favorite critters!
Art Collaborations
We are thrilled to partner with independent artists to create beautiful one-of-a-kind merchandise that you won't find anywhere else! Interested in collaborating with us? Drop us a line or email us at crittercastpodcast.com!
Featured Artist
You can find the gorgeous animal artwork by Zara on many pieces of our merchandise, as well as on our website! Zara is a vet student who loves and understands animals – two traits that help her create stunning portraits of reptiles and mammals alike! You can purchase the pieces she's designed for CritterCast on our Redbubble! And, if you desperately need a portrait of your own beloved pet, you can commission artwork from Zara, and check out her other designs at her website art by zara. Be sure to follow her on instagram @artbyzara!